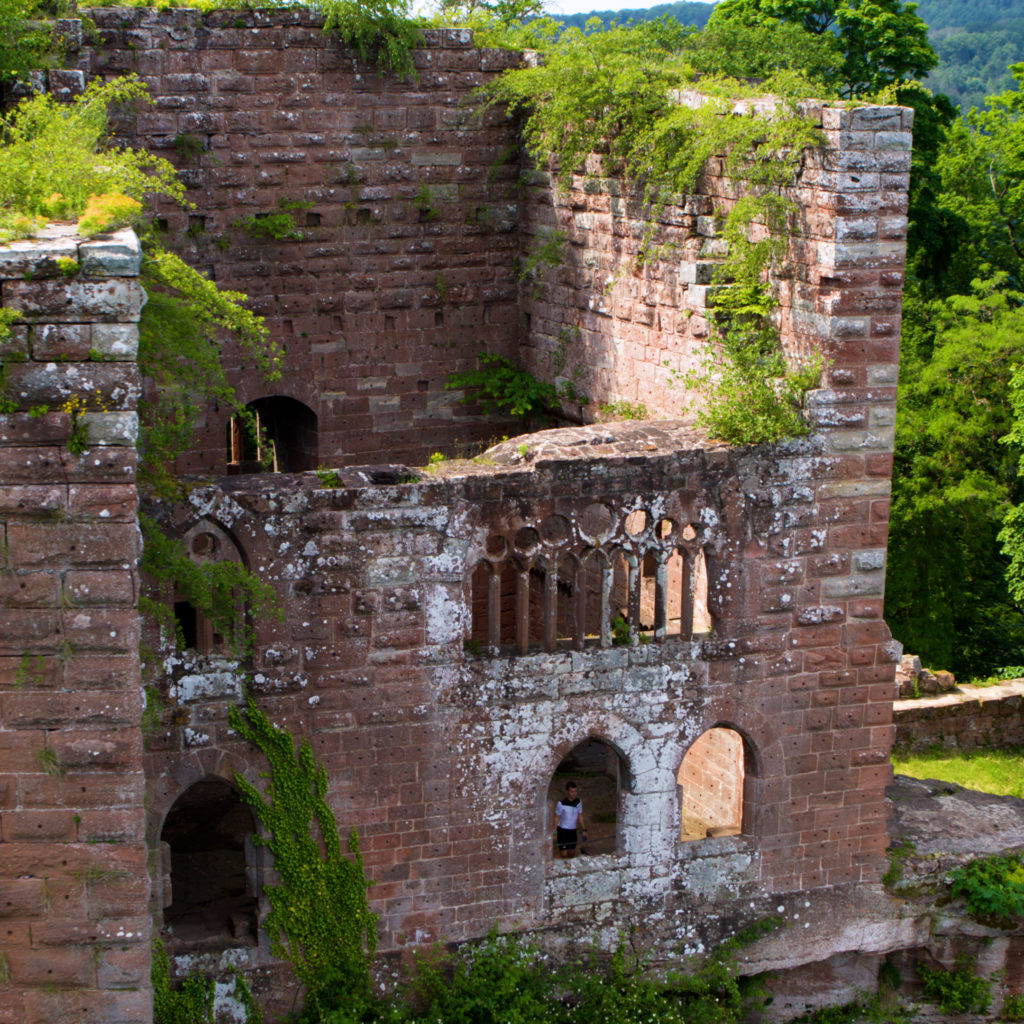 Ruin to visit
Wasenbourg Castle
Situated on a natural pedestal at an altitude of 430 m, the castle presents a majestic site with a rich and original past, in the heart of the Northern Vosges.
Markers
Built on the site of an ancient Roman temple, the castle was the property of the Lichtenbergs. Through the course of inheritances, it passed to the Counts of Deux-Ponts-Bitche in 1480 and then to Hanau-Lichtenberg. Destroyed by rebellious peasants during the Peasants' War in 1525, it was restored, but then destroyed by French troops in 1677.
History
To visit the castle is to follow in the footsteps of the great poet Goethe who wrote around 1770: "From the tower, you could see all of Alsace below and the characteristic spire of the cathedral located in Strasbourg. "
Key points
Its 4 m-thick shield wall housing a sumptuous two-storey residential chamber, with a magnificent Gothic bay set in it and overhung by a 13th-century sculptured head; the vestiges of a Gallo-Roman temple dedicated to Mercury lie just behind the ruin.
Practical informations
Address


67110 Niederbronn les Bains

Access

Park your car in the square at Niederbronn Station. Then walk along Avenue de la Gare, passing under the bridge of the railway line, then turn right into Allée des Tilleuls. Follow the red rectangles. After passing under the expressway, the path departs on the left and climbs up to the ruins. Continue to follow the red rectangles and the signs for the Fortified Castles' Trail.

Walk time from car park

75 min

Nearest tourism office

Office de Tourisme de Niederbronn-les-Bains
6 place de l'hôtel de ville, 67110 Niederbronn les Bains
03 88 80 89 70 - office@niederbronn.com
www.niederbronn.com - Facebook @niederbronn

Conservation association

Les Amis de la Wasenbourg
www.chateaux-forts-vivants.fr/qui-sont-nos-membres/94-wasenbourg
administration@chateaux-forts-vivants.fr

GPS coordinates

Lat.: 48.96011020 - Long.: 7.61587903
Nearby