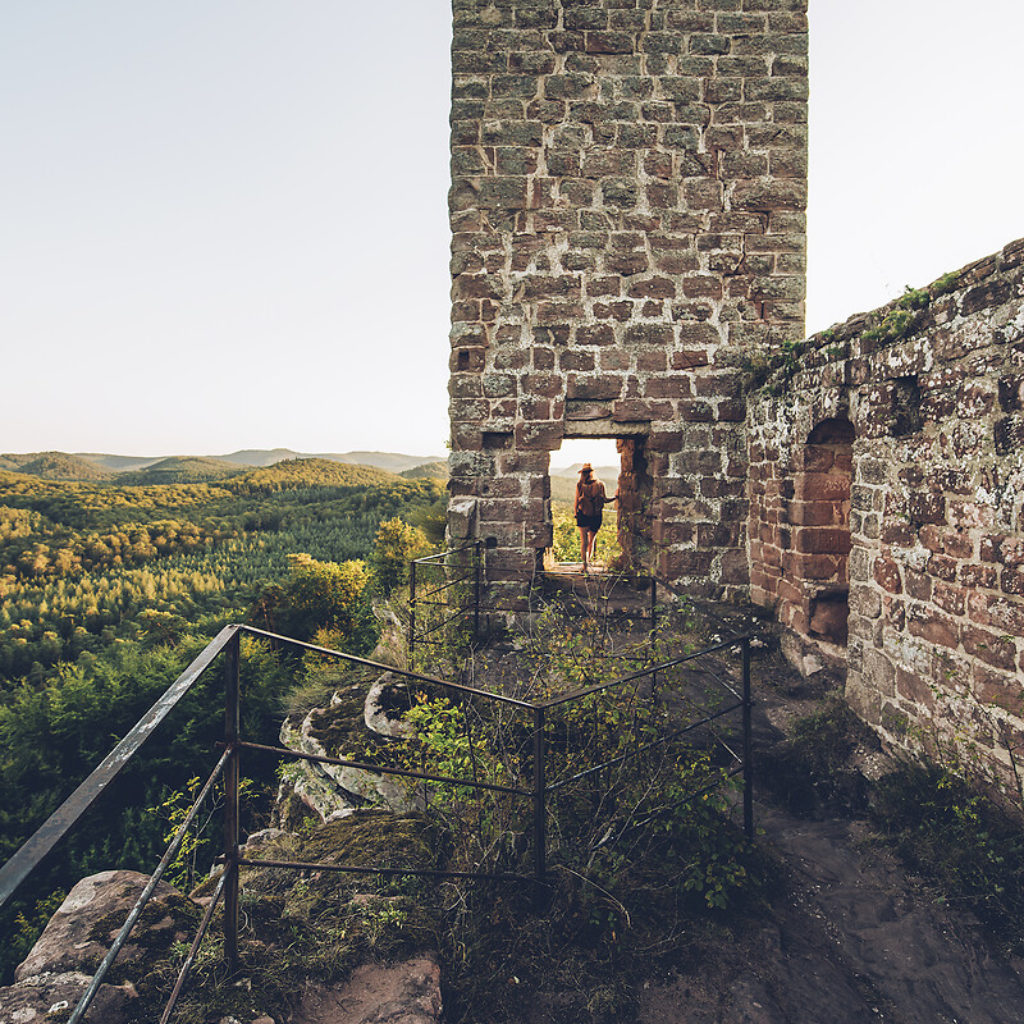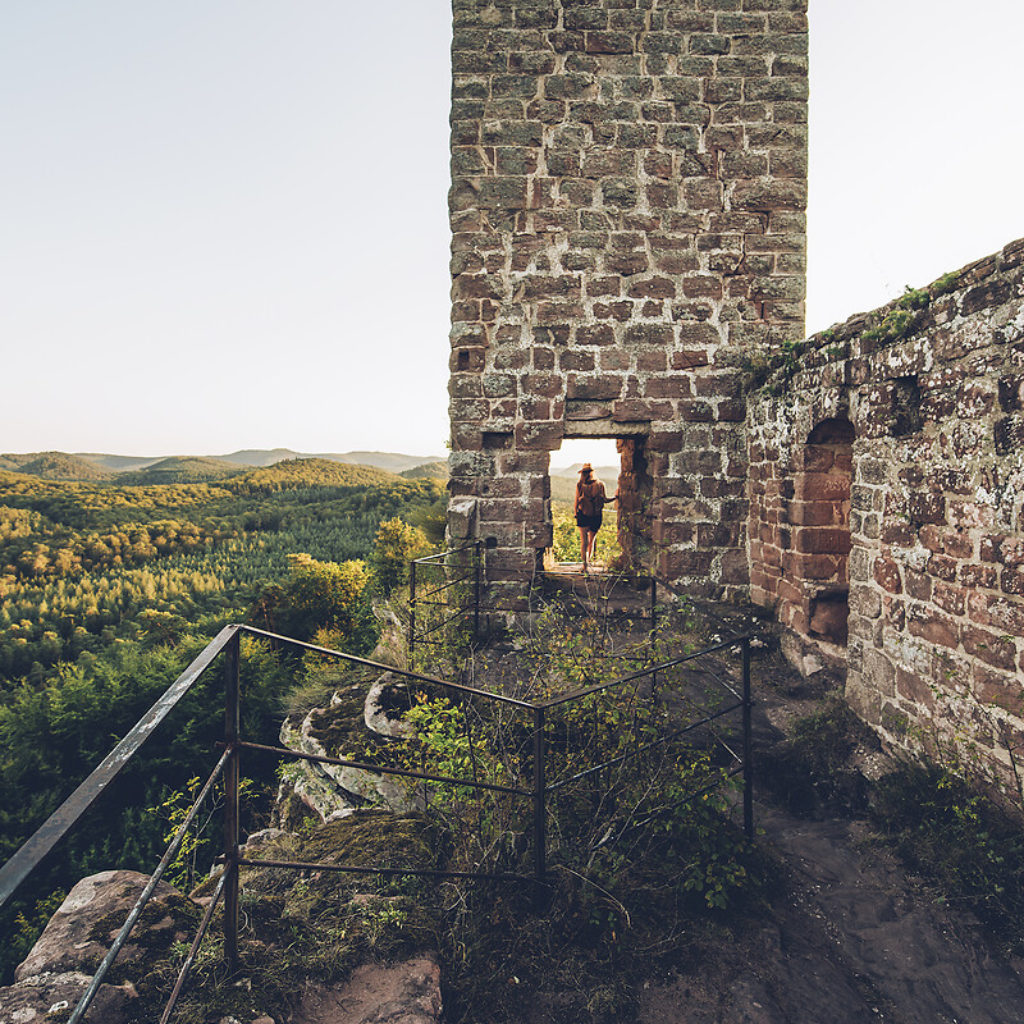 Ruin to visit
Lutzelhardt Castle
This beautiful and strange silhouette intertwined with the rock, rises to an altitude of 330 m, east of Obersteinbach.
Markers
Founded by the Lutzelhardts, a vassal family of the Dukes of Lorraine, the castle, linked to the confessional of the Cistercian abbey of Sturzelbronn, controlled the route between the properties of the Dukes of Lorraine and those of the Hohenstaufens. At the end of the 13th century, it passed to the Deux-Ponts, as did the seigniory of Bitche, then to the Fleckensteins. The castle is noted as ruined from the 16th century and then destroyed during the Thirty Years' War.
History
The death of Jacques de Deux-Ponts-Bitche led to quarrels between his heirs. The forests around Bitche were then marked out with milestones demarcating the territory of the Duchy of Lorraine and those of the seigniory of Hanau-Lichtenberg. For political reasons, the Duke of Lorraine decided to assign the castle (already ruined) to the Count of Hanau-Lichtenberg, in order to better recover the lands of the seigniory of Bitche.
Key points
Perched on its vertiginous rock, the castle is a semi-troglodyte construction, which follows the relief of the natural site and, when viewed, offers the romantic image of a ruin worthy of a fantastic medieval film.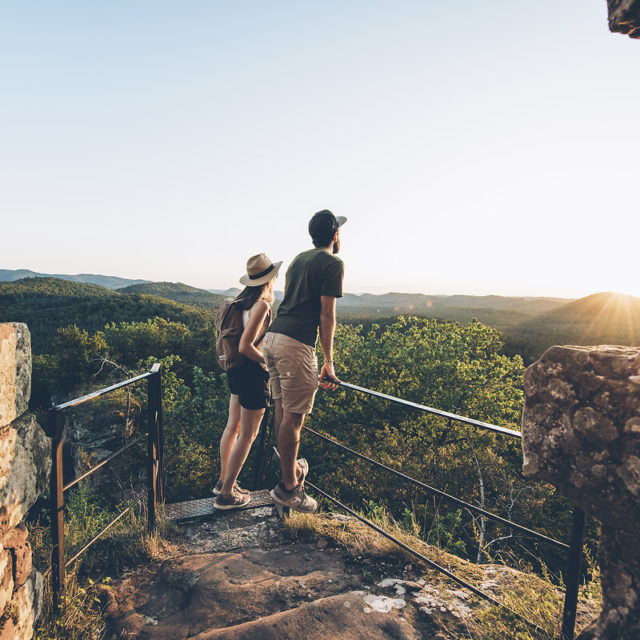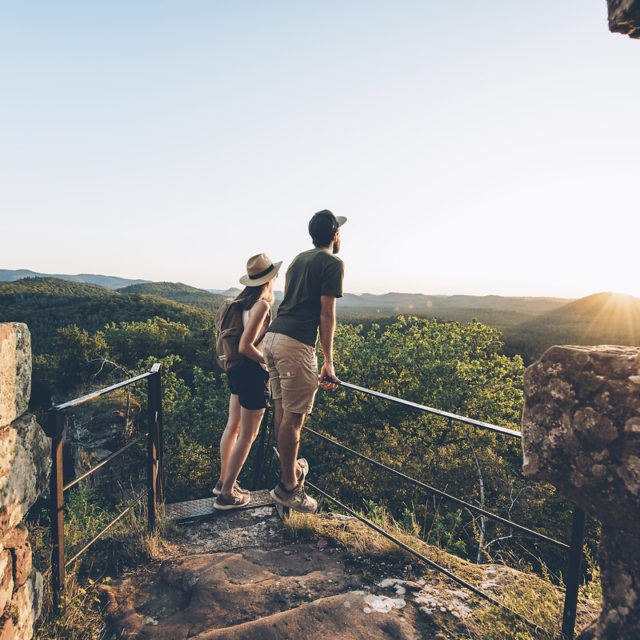 Practical informations
Address

D 3
67510 Obersteinbach

Access

From Obersteinbach, follow the D3 towards Bitche. After about 2 km, at the third bend, park your vehicle in the car park on the right. Follow the path marked by a yellow rectangle then a red diamond, or the signs for the Fortified Castles' Trail.

Walk time from car park

20 min

Nearest tourism office

Office de tourisme Sauer-Pechelbronn
2 route de Bitche, 67510 Lembach
03 88 86 71 45 - info@tourisme-nordalsace.fr
www.tourisme-nordalsace.fr - Facebook @sauerpechelbronn

GPS coordinates

Lat.: 49.04552497 - Long.: 7.65535176
Nearby