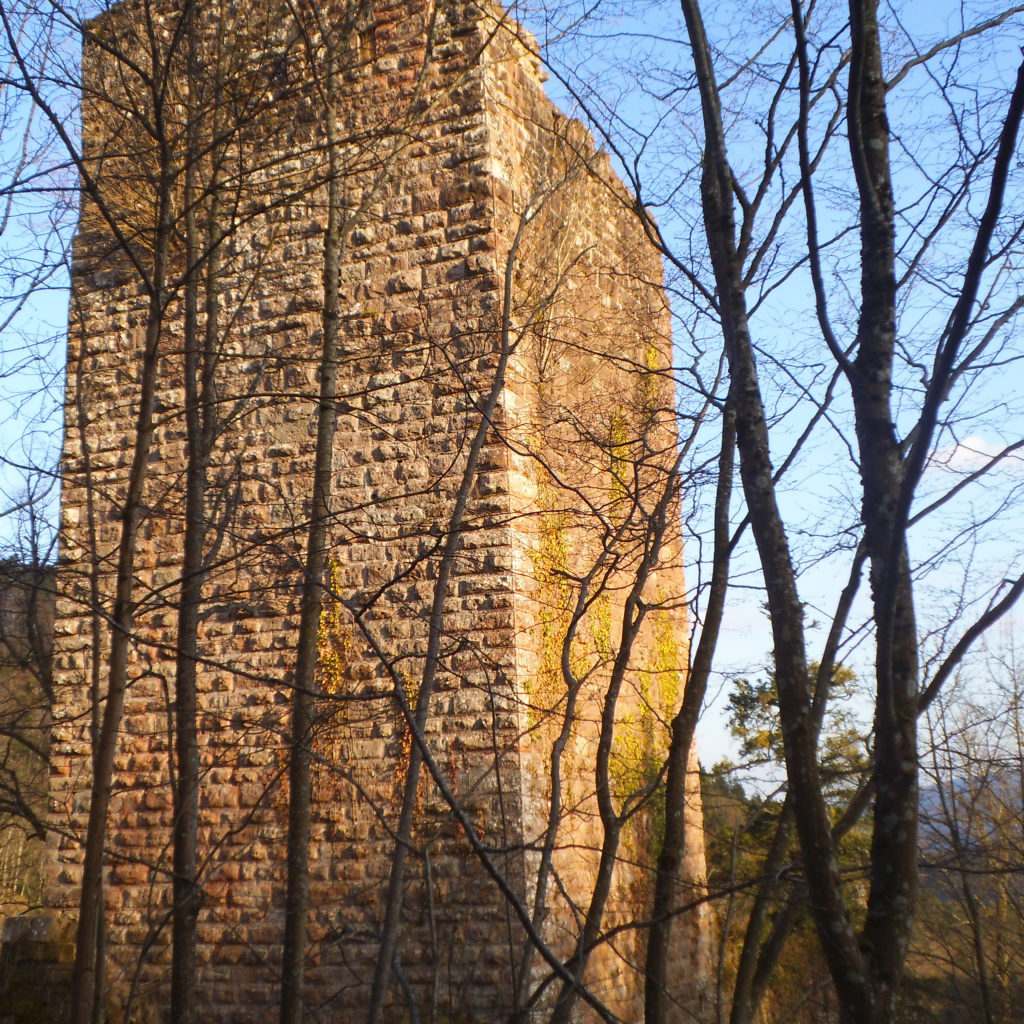 Ruin to visit
Nideck Castle
In the footsteps of the Grimm brothers, the two castle ruins, perched at an altitude of 534 m on the top of a cliff of volcanic rocks, are the hiker's Eldorado.
Markers
Owned by the Bishopric of Strasbourg, the castle owes its name to Lord Bourckard of Nideck, who appears in a note dated 1264. His family had the second castle built in the 14th century. In 1454 during the war in Wasselonne, the Count of Lichtenberg besieged the castle, which ended up being burned down in 1636. Its picturesque ruins inspired many 19th-century romantic poets, who came to refresh themselves near its majestic waterfall.
History
Mysterious giants protected the inhabitants of the Nideck region. One day, a giant's daughter, who had ventured into the plain, brought back in her apron pocket a frightened peasant with his harnessed team of horses. "What beautiful toys!" she exclaimed, showing them to her father who cried out: "What have you done my child! We need to respect the worker who farms the land and feeds us".
Key points
Its superb forest environment, its waterfall and its unique panorama over the Bruche valley, Guirbaden Castle and Le Champ du Feu.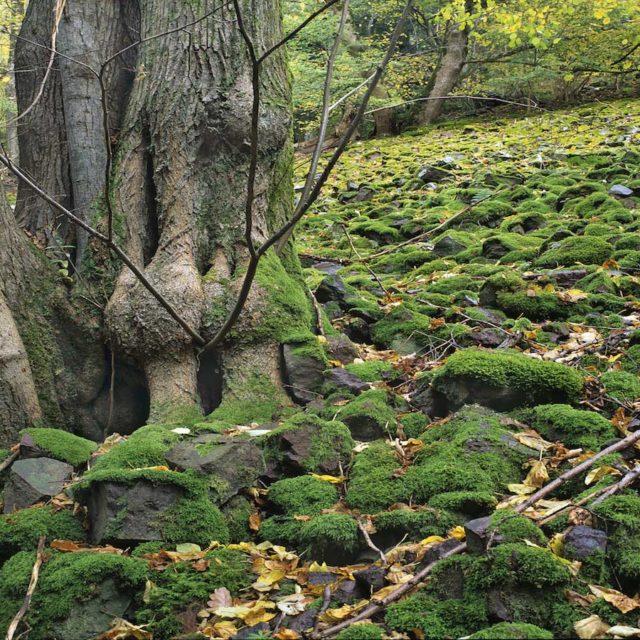 Practical informations
Address

Route du Nideck
67280 Oberhaslach

Access

The nearest car park is located opposite the Nideck Forest house, on the D 218 which links Oberhaslach to Wangenbourg. Signs bearing the historic monuments' logo indicate 'Cascades Ruins du Nideck'. Take the path marked with the yellow rectangle or follow the signs for the Alsace Fortified Castles' Trail.

Walk time from car park

30 min

Nearest tourism office

Office de tourisme Région de Molsheim-Mutzig
19 Place de l'Hôtel de Ville - Molsheim
Facebook @OfficedetourismeRegionMolsheimMutzig
03 88 38 11 61 - infos@ot-molsheim-mutzig.com
www.ot-molsheim-mutzig.com


GPS coordinates

Lat.: 48.57936123 - Long.: 7.28322744
Nearby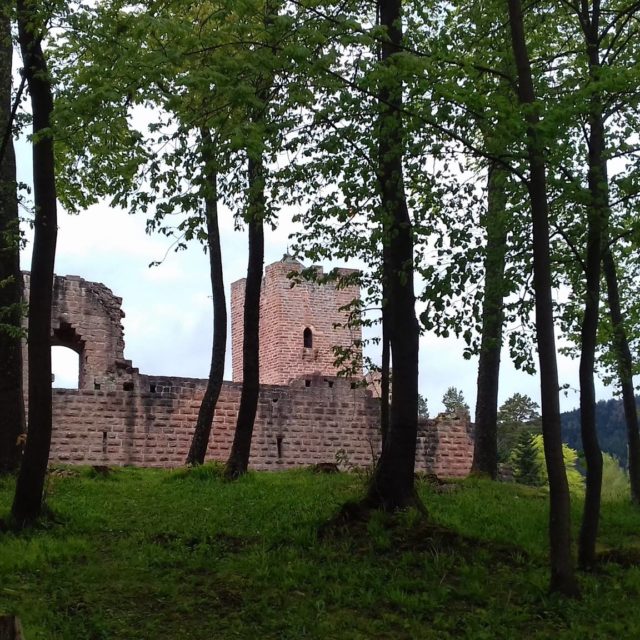 From the top of its 24-meter keep, Wangenbourg Castle offers clear views over La Suisse d'Alsace (Alsace Switzerland). Its sandstone...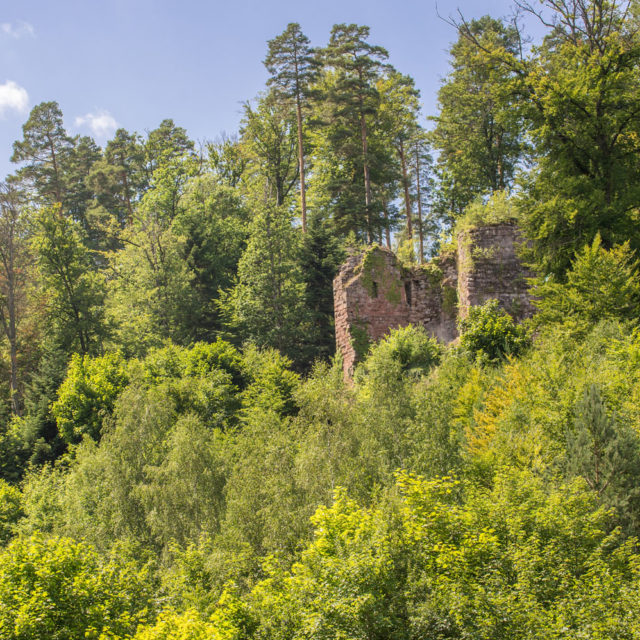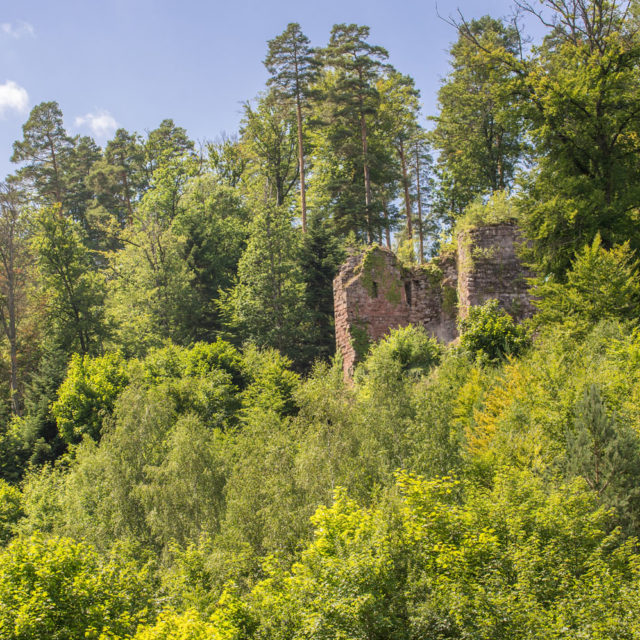 In the middle of the forest, secured to its rock rising to an altitude of 390 m, this ruin neighbouring...