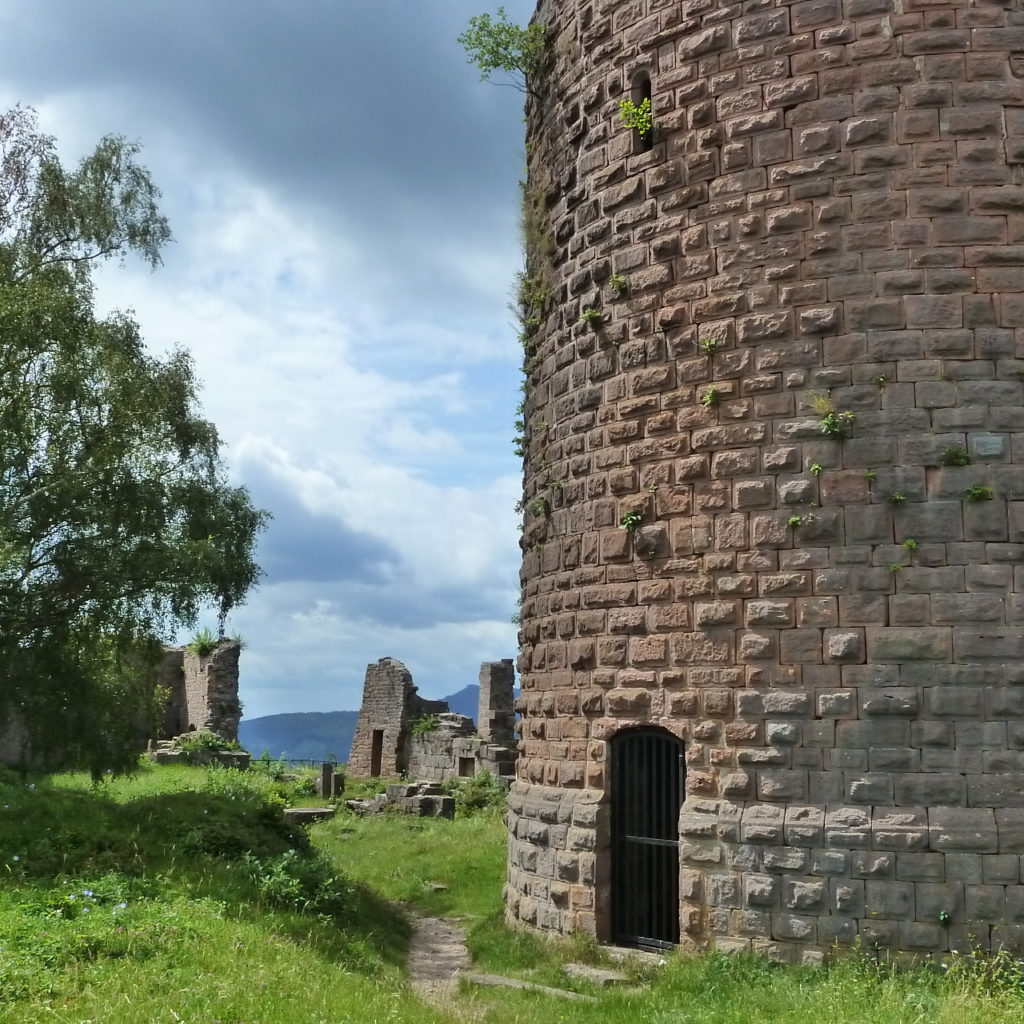 Ruin to visit
Frankenbourg Castle
Crowning the Schlossberg at an altitude of 703 m, between Neubois and La Vancelle, at the junction between Le Val de Villé and the Sainte-Marie-aux-Mines valley, the ancient castle overlooks the transvosges road which leads to Lorraine.
Markers
Founded on an ancient Roman site, the castle was first mentioned in 1125 as the property of the Count of Frankenbourg-Saarbrücken. In the 13th century, it was a fief of the Bishop of Strasbourg. In 1483, the Great Chapter of Strasbourg bought back the forest and the castle. It would be destroyed by lightning in the 16th century.
History
According to the 16th century architect, Daniel Specklin, it was Clovis, King of the Franks, who would have founded the castle in the 5th century, to facilitate the passage of his troops in Alsace. Its name 'Frankenbourg' thus meant: 'The fortress of the Franks'. And on the stained glass windows of the now-missing castral chapel, Specklin claimed to recognise the three toads of the Frankish coat of arms, later transformed into fleur-de-lis.
Key points
The castle features architecture typical of 12th century Alsatian Romanesque castles with the enclosure wall, the entrance gate and the lord's residence.
Practical informations
Address


67220 Neubois

Access

The easiest access, available all year round, is from the car park located on Route de Sélestat (next to the playground and bus shelter) in Neubois. Follow the path marked out by the Vosges Club (blue cross) then the signs for the Fortified Castles' Trail.

Walk time from car park

75 min

Nearest tourism office

Office de Tourisme de la Vallée de Villé
14 Place du marché, 67220 Villé
03 88 57 11 69 - info@valleedeville.fr
http://tourisme.valleedeville.fr - Facebook @ot.valleedeville

Conservation association

Les mains d'or du Frankenbourg
LesMainsdOrDuFrankenbourg@gmail.com
Facebook @Les Mains d'Or du Frankenbourg
http://mainsdorfrankenbourg.free.fr

GPS coordinates

Lat.: 48.29525008 - Long.: 7.32497334